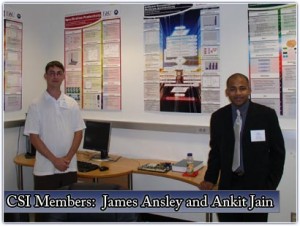 The Center for Systems Integration provides a state-of-the-art center for multidisciplinary research, teaching, and training with a component of service and nucleating beneficial economical activities. The center's focus is on emerging technologies and applications for real-time and smart phone embedded system modeling, design, development, verification, and integration. The Center is envisioned to provide a collaborative environment that induces individual performance and rewards excellence for both university and industry participants, and to contribute to a research and development infrastructure in South Florida.
Our current areas of focus are smart phones, robotics, and semantic web technologies, and their applications in education, health, and climate change. We only provide an overview of these areas here – each of these areas has its own website (please see the links section for these and other links). Other related areas, such as auto code generation, concurrency modeling and open source tools, are documented here. We also use this site to document our earlier work in biomedical engineering, engineering design automation, electronic chip design, and engineering design productivity.
Our center is located on the campus of Florida Atlantic University, a young and dynamic university, which has proven its mettle in its short existence. Florida Atlantic University is located in the beautiful ocean-side Palm Beach County, considered to be the richest county in the world. Our center and the university are within two to three hours of driving distance from most of the high technology industry clusters in Florida. Our center benefits from these natural and community assets, while building on them to go further.
Report for the latest 7 year term (2007-2013) is provided here: CSI Report
Evaluation for the previous 7-year term is provided here: Seven Year Evaluation